Lyn Barnes
The arid landscape of outback Queensland has been inspiration for artist Lyn Barnes since she began painting over eighteen years ago. Her work is recognised for its vivid depiction of not only the intense blue skies and red earth of her home, but also of the people of the area that is sometimes referred to as Heartbreak Corner.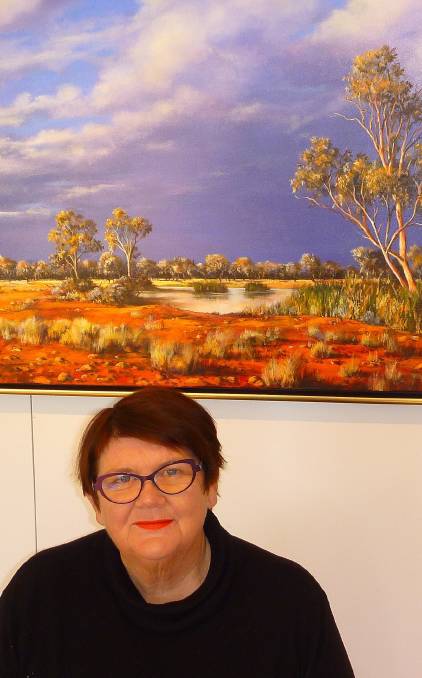 Since opening her first gallery in Quilpie twelve years ago, Lyn's work has become popular with outback travellers as they collect her pictures to remind them of their experiences. Successful annual exhibitions in Brisbane have proved to Lyn that Australians who live in cities still have a love of outback landscapes and lifestyle.
The paintings Lyn produces in her studio in at Eagle Gallery in Quilpie are held in both private and corporate collections throughout Australia and overseas. She is regularly engaged by art groups in Roma, Charleville, Quilpie & Yowah as a pastel tutor.
Exhibitions
2018 – Betoota – The Exhibition, Graydon Gallery Brisbane
2017 – Celebrating Life in the Channel Country, Graydon Gallery Brisbane
2016 – Sixty Little Pictures, Graydon Gallery Brisbane
2015 – With Sculpturist Mary Donnelly, Graydon Gallery Brisbane
2014 – With Australian Outback Storyteller Annabelle Brayley, Graydon Gallery Brisbane
2013 – Postcards from the Edge, Graydon Gallery Brisbane
2011 – Kings of the Earth solo exhibition Stockman's Hall, Longreach, Graydon Gallery Brisbane
2010 – Landscapes & Larrikins joint exhibition with Wolfgang John, Art in the Shed –Centenary Exhibition for ABC Races Brunette Downs NT, Graydon Gallery Brisbane
2009 Graydon Gallery Brisbane, Quilpie Visitor's Centre Gallery, Roma on Bungil Gallery
2009 – Artist in Residence, Eagle Gallery Quilpie, Graydon Gallery Brisbane
2008 – Quilpie Visitor's Centre Gallery, ABC Races, Graydon Gallery Brisbane, Surat on Balonne Gallery, Cunnamulla Regional Gallery
2007 -Graydon Gallery Brisbane, Townsville
2006 Great Australian Cattle Drive Exhibition Birdsville
2004 – Coober Pedy
2004/06 – Lyn Barnes Gallery Quilpie
2003/2006 – Graydon Gallery Brisbane
2002 – Nudgee College Year of the Outback Art Show Feature Artist
2000/04 -The Old Exchange Gallery Quilpie
1994 – "Earth Scents" Queensland Arts Council Gallery Brisbane
Awards
2010 Quilpie Shire Council Australia Day Cultural Award
2006 South West Queensland Mulga Award for Arts & Culture
2003 Quilpie Shire Council Australia Day Cultural Award
Contact Lyn